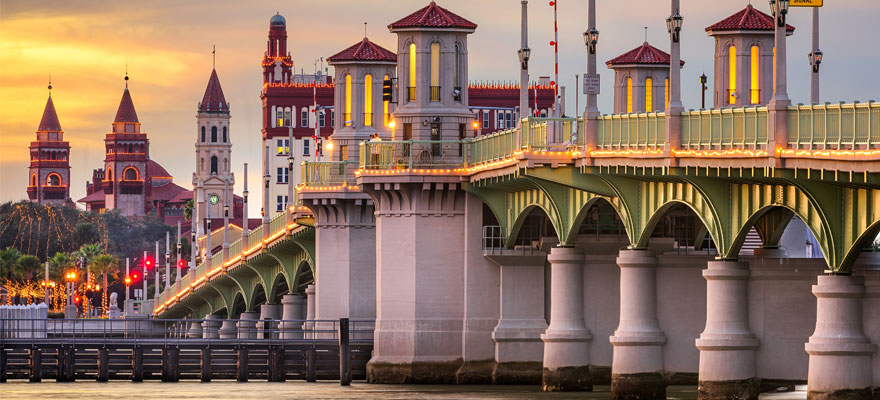 Yes, I realize you can work with anyone all over the world when it comes to finding someone to build your website.  Some people really like the idea of working with someone from India, mainly because they get their website for a fraction of what it costs to use someone in the USA. But when they see the quality of what they are getting, and the poor support they usually end up disappointed.  That said, we are here to talk about the advantages of working with a local St. Augustine Web Designer.
1. We can meet face-to-face.  I know what you are thinking, isn't meeting on Skype just as good as meeting face-to-face, but I say no.  Skype doesn't give the designer a good feel for your business.  Being local we get a better idea for what your St. Augustine based business is all about.  On top of that, being local gives us the chance to get to know each other.  I can find out a lot more about your business, and what you are looking for when we take the time to meet.  Plus, you will get a good idea of working with me will be like and if I can meet your needs.
2. We can take local pictures.  Yes, I know everyone, and their grandmother has a cell phone and can take pictures, but guess what – most of them don't turn out very well.  I have worked with several clients from all over the United States and Canada who are using their iphones to take photos of their business and more often than not, they just look bad.  We are trying to make your company look the best it can, so we need to take professional pictures.  You will be surprised how much better your business can look when you take pictures with an SLR Camera and some photoshop magic vs. a phone.
3.  Support is just a few minutes away.  If you have ever tried to work with someone in California, it can be challenging.  The three-hour time difference can make it hard to get help or make changes when you need it.  We do work with several clients in California and picking up the phone at 7:00pm is just the reality of doing business these days, but when you are local we are ready to help when you get to work.  There is nothing more frustrating than needing help on your web site when you get to work at 8:00am and you can't call anyone for 3 hours because they don't get into work until 11:00am EST.
4. Local Referrals.  Sure someone in India gives you lots of referrals from people you just can't ever seem to get a hold of but being local, and there is a good chance you already know the people we have built websites for in St. Augustine.  You can check out their site, call them up and find out exactly what it was like to work with us.
5. We support local business.  I can't tell you how many of my clients I end up doing business with.  From AC repair to plumbing, more times than not we end up giving business back to our clients.  I'm pretty sure nobody in India or California will ever buy anything from your company.  Just saying.
So there are just a few advantages of working with a local St. Augustine Web Design Company.  If you have any questions, or would like us to help your business, give us a call at 904-209-6933.  We look forward to working with you.
If you do not want the Parent Menu items clickable, create a custom menu item and link it to "#" (no quotes). Then put your other menu items under that one.
Creating Side Bar widgets for Menus in WordPress 3.0 So you want to add sidebars to your website and do them dynamically. I am sure there are many ways to do this, but here is how I do it. You need FTP access to your wordpress site to do this. I use Dreamweaver to edit…
We have just upgraded the site to WordPress 3.0. If you see anything broken, rest assured we are working on fixing it. We look forward to all wordpress 3.0 has to offer the community and your websites.