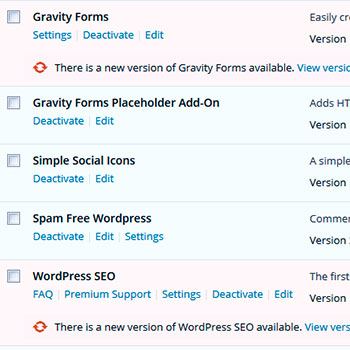 Once your WordPress site is up and running, you need to think about the long term WordPress maintenance of the website. WordPress differs from a straight HTML site in many ways. With an HTML site, it is basically set it and forget it, but with WordPress there is a lot more going on. Keep in mind that WordPress is a much more powerful platform and with great power comes great responsibility. (Does that sound familiar?)
WordPress is made up of three main parts:
The WordPress core
Your Theme
Plugins
The WordPress core gets updated several times a year. They just recently launched WordPress 4.0. Generally, every update includes mostly bug fixes, security patches and sometimes new functionality.  It is important to keep WordPress updated mostly for the security patches. When holes in security are found and patch, you should always update the core.
Your Theme, depending on where you got it, might also need updating. If you have a custom theme, generally it doesn't need to be updated, but if it is on something like the genesis framework, that may need to be updated regularly for the same reasons as the WordPress core.
Lastly there are plugins. Plugins help bring functionality to your website. Popular plugins are Sliders, forms, SEO, and much more. These plugins are updated all the time. It is important to keep your plugins updated for security.
There are dangers to updating WordPress – mainly the site might break. That is why it is important to make a backup of your website before updating anything. Some WordPress hosting companies offer staging areas where you can test your site before actually pushing it live. This service really does make life a lot easier for keeping your WordPress site in top shape.
We offer WordPress maintenance packages to keep your website in top shape.
To learn more, give us a call at 904-209-6933 or fill out the contact form on this page.