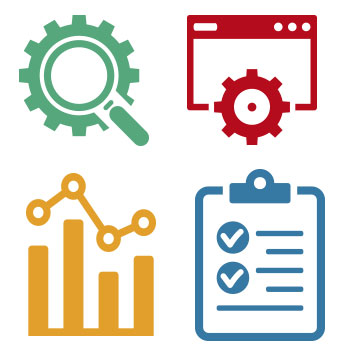 Is your site set-up correctly to have the best chance of ranking well in search engines? Is your meta data set up correct? Are you still using meta keywords? All of these things impact how well your website performs. So how you know? Get an SEO Audit.
An SEO audit looks at three different areas of your website to determine the current health of your website from an SEO point of view.
We look at three different key areas:
The Technical Audit
The Content Audit
The Link Audit
Here are some examples of what we look for in each category.  This does not includes everything, but gives you a general idea of what types of things exist in each category.
The Technical Audit
We evaluate the site for page errors and poorly formatted code that might keep search engines from finding/crawling a web page.

a) Check the validation of your xHTML markup using the W3C Markup Validation Service.

b) Check your CSS using the W3C CSS Validator.

We look at your URL structure to see if they are descriptive and contain relevant keywords.
URLs shouldn't be more than 255 characters in length.
If a web page is far (several directory levels) from your root directory (www.mysite.com), search engines will weigh its value less

Bad = http://www.mysite.com/usa/places/jacksonville/southside/
Good = http://www.mysite.com/jacksonville/southside/

Use hyphens in URLs, not underscores

Bad = www.mysite.com/this_is_not_seo_friendly/
Good = www.mysite.com/this-is-seo-friendly/

Evaluate Canonical Issues

a.) Decide whether you want a www or non-www URL and then redirect the loser to your preferred choice. If you choose "http://www.site.com/" then create a 301 direct to that URL from "http://site.com/"

b.) Remove default file names at the end of your URLs. Below are some examples. You should create a 301 redirect to your preferred URL for any variation. You should only have ONE homepage!
http://www.site.com/index.html
http://www.site.com/index.htm
http://www.site.com/index.php
http://www.site.com/default.html
http://www.site.com/default.php
http://www.site.com/home
The Content Audit
Look at the quality of the content on your site.  Is it unique? Is it copied from somewhere else? Is it "Link Worthy" content?
All content should be written for humans, not for search engines.
Include targeted keywords and key phrases in your title tags, meta descriptions, header tags, alt attributes, on-page copy, etc. Pages should be optimized for 2-4 keywords per page, with the keywords used 4-5 times per 500 words and no keyword being targeted on more than one page.
Every page should contain 200+ words of HTML text.
Title Tags are the most important on-page optimization element, so spend time making them perfect.
Meta Descriptions don't affect keyword rankings, but they do affect click-through rates from search engines.  Make sure these are unique and should be written in a way to entice users to click to your site.
Meta Keywords are useless - don't waste your time doing them. If anything they give your competitors an idea of what you are trying to rank for.
Link Audit
Measure the number of inbound links.
Evaluate what types of links they are. ie. .Edu sites; .Gov sites? etc.
Has site been submitted to industry relevant directories?
Just like links within your site should use keyword-optimized anchor text, links to your site should also use keyword-optimized anchor text. If the majority of links to your site use inadequate anchor text (e.g. "click here") then flag this for later. During the link building stage you can reach out to webmasters of sites that link to you and ask them to modify that anchor text.
Ready to get an SEO Audit? Contact Us today to get started.