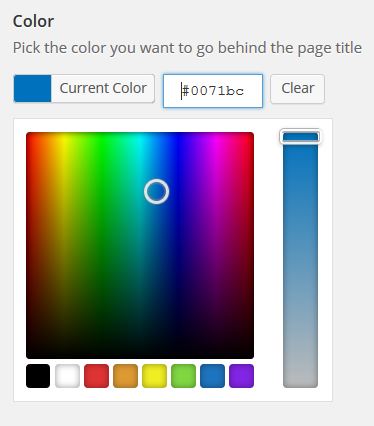 Right out of the box, WordPress can do some pretty neat things that used to take a really long time in HTML. Things like dropdown menu's can be added in a few seconds, or an image slider can be done in an hour instead of 10. But what if you want to do things beyond what comes with WordPress? That is where WordPress Custom Development comes in and you need a WordPress Developer you can trust to get the job done right the first time.
Let's say you want to do something like being able to pick what color goes behind your page title. Just like this very page. Instead of coding it in CSS stylesheets, which is very difficult for someone that isn't a web designer, you can simply pick the color right on the page. And you can do that on every single page. That functionality is not built into WordPress, so you need some custom development to make that happen.
What about putting a different background image on every page? Again, you can do it with CSS, but it is very difficult. With some custom development, you can easily pick what image you want going on what page.
Getting more complex, you can work with custom API's to achieve some really cool functionality that are unique to your website.
We may build this functionality into a theme, or create a custom plugin to achieve your goals.
You tell us what functionality you want and we make it happen.