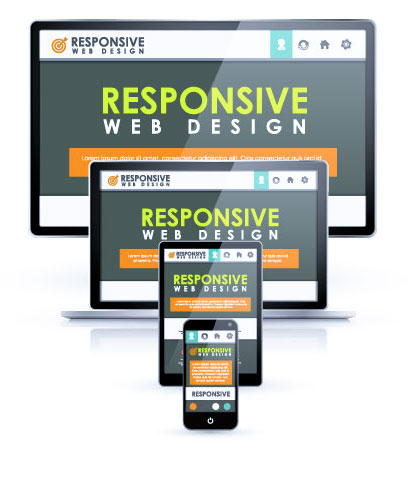 Before the time of tablets, and smartphones, there was no reason to worry about what your website looked like on anything other than a desktop computer. Life was simpler back then, but the times have changed.
When smartphones began to be popular, people began to be concerned with what their websites looked like on an iphone, and for the most part it wasn't pretty.
People that used a lot of flash found out their websites were basically blank on an iphone. Something had to change. So that began the invention of the mobile website. Now you could have a website for desktop users and one for smartphones. The problem was, now you had to keep up with two different websites and you now had to worry about duplicate content between your mobile site and your desktop site.
For the most part though, people were happy – that is, until the iPad was launched. Now there was yet another format to view your website. Surely there had to be a better way, and there is – it is called Responsive Web design.
With Responsive web design, you only need one website. The site is coded to automatically adapt to all different size screens. So regardless if you are looking at the website on a smartphone or a desktop, you will get a great user experience. Responsive design also allowed for much wider websites than ever before. Instead of worrying about a 960px width – the common format for websites – designers could now make desktop sites 1200px wide and not worry about what it would look like on smaller screens.
Responsive web design basically changed the way we build websites. There are a few disadvantages of responsive websites compared to a dedicated mobile website. Perhaps the largest is that you cannot really customize what your site will look like on a phone. We basically position things on the phone based on where they content lies on the desktop site.  For most people though, this is an acceptable tradeoff for all the benefits responsive design brings.
Nearly all WordPress websites are designed for mobile responsive formats. Though there is still a lot of work to be done to get a website to look right on all screens. This typically takes between 4-8 hours of time depending on how complex the website is.
Do you know how your website looks on a mobile phone? Is it functional? Do you customers constantly have to pinch zoom to see your content? If so, it is time for you to upgrade your website to a format that will future proof your website and deliver a consistent user experience across all platforms.
Ready to get started? Give us a call at 904-209-6933 or fill out the contact form on this page.