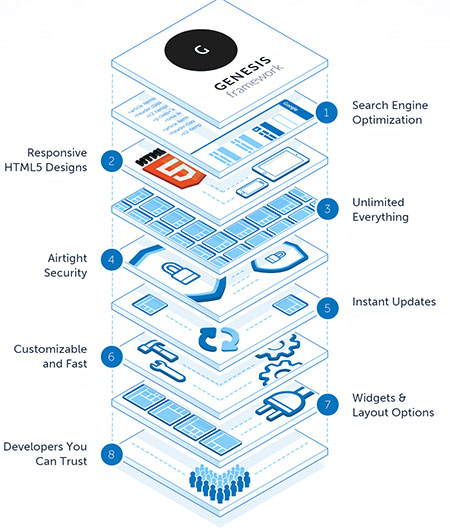 We use the Genesis framework for WordPress for a number for a number of great reasons.
Genesis is built on a responsive HTML5 platform. Why is this important? HTML5 is the newest code standard which will make your site compatible with future changes on the web. It ensures that your site will be cross browser compatible.
Genesis is Search Engine Optimized. Clean, optimized code and smart design are important in helping your site achieve the best rankings possible. Genesis also supports Schema.org code, which allows you to use microdata on the website. This code helps Google easily identify what is on your website.
State of the Art Security. WordPress can be vulnerable to malicious attcks if you are not careful. With Genesis, security expert and core WordPress developer Mark Jaquith was brought in to make sure the Genesis Framework has the best security possible. With his guidance, we built our framework to follow all WordPress security best practices.
Genesis Offers Unlimited Updates. Once you have your website completed, you never have to worry about having to pay when they update the genesis framework. Just simply click the update button, and you are good to go. (you may want to make a site backup just in case)
We have been uses Genesis pretty much exclusively for the last year for all our of WordPress designs and WordPress development and found it to be the best way to create website.