Search Engine Optimization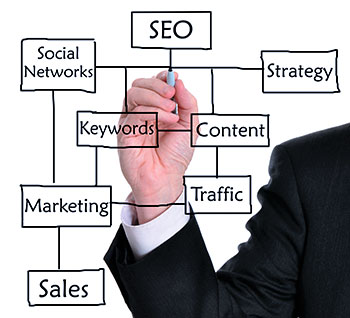 If you have been searching around the web you have no doubt come across the term SEO or Search Engine Optimization, but what exactly is it? Search Engine Optimization is the process of improving the visibility of your website in search engine results.
SEO had changed a lot in the last few years. What worked in the past no longer works and can get you penalized by Google. Keyword based links are bad news. If you have links like this you should try a link removal program. Keyword based links like "seo company" linking back to your website used to help you rank for that term, but now it hurts your website.
Branded links still seem to be effective in building up your domain authority and shouldn't result in a penalty if used sparingly.
Be very careful of companies promising you fast results and using keyword based links. While you may experience short term success, you will most likely regret the decision when Google penalizes your website.
On Site Optimization
One of the most important factors in SEO today is on-site optimization. This process involves optimization key pages for meta data. This includes things like title tags, meta descriptions, h1 -h5 tags and the content on the page. It is also important that your site is structured properly. Poorly structured website can hurt your rankings. All of these things can make a pretty dramatic difference in you rankings for a relatively low amount of money.
Ready to get started or have more questions? Call us at 904-209-6933 or click here to contact us.